7 Reasons To Get Hungry For Our New Show 'Family Style'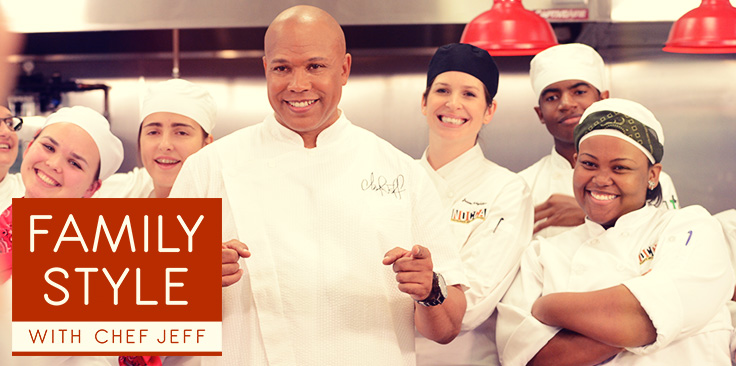 Z Living's newest cooking show is all about farm-to-table gastronomy, so come with a hearty appetite. In Family Style, the affable "Chef Jeff" explores holistic food choices, where food comes from, healthy meals to make at home, and even how to involve kids in the kitchen.
Here's the 7 biggest reasons you should tune in :
1. You'll Fall for Chef Jeff's Charm

Fans of Z Living's show Flip My Food already know how friendly and personable Chef Jeff is, and his personality is amplified in Family Style. His genuine love of cooking combined with his gentle guidance make him an inspiration and a joy to watch — for both novice and experienced chefs.
2. You Can Get the Entire Family Involved

One notable feature of Family Style are the young assistants who cook alongside Chef Jeff in each episode. Family Style brings the whole family together to prepare a healthy meal, and can demonstrates ways to introduce kids to cooking with fresh ingredients. After all, gastronomy isn't just for adults.
3. You'll Hone Your Culinary Craft

Chef Jeff's background as a chef at Las Vegas's Bellagio and Caesar's Palace resorts give him expert credentials, so you'll be learning from a master. In each episode, the chef teaches you how to handle, break down, and cook with a variety ingredients, including many you might not have seen before. You'll feel like pro expert in no time.
4. You'll Learn How to Bring the Farm-to-Table Movement into Your Own Kitchen

Chances are you've heard the term "farm-to-table" before, but you might think it's something you can only find in restaurants. Chef Jeff proves that finding and preparing locally sourced food is easier than you might think. Get ready to show off to your friends at your next dinner party.
5. You'll Expand Your Healthy Recipe Repertoire

Stuck in a cooking rut? Struggling to stay on the healthy-eating wagon? Every recipe featured on the show delicious, satisfying, and, of course, good for you. In each episode, you'll find a mix of healthier versions of classic dishes, along with some exciting new combinations to spice up your home menu.
6. You'll Discover Recipes Kids Will Love, Too

Getting kids to eat healthy is no easy feat. Family Style recipes are kid-prepared and taste-test approved, so you know they'll be a hit with all-ages. Plus, if you follow Chef Jeff's lead and get your children involved in preparing the meal, they're far more likely to try — and love — the end result.


7. You'll Learn How to Make Meal Planning a Cinch

As most experienced chefs will tell you, timing is everything. If things aren't planned properly, you might end up serving a delicious main course with side dishes that have gone cold. Thankfully, Chef Jeff walks you through the entire meal preparation all the way to the plating process, so you know your meal will come out perfectly.