A Plant-Based Grocery-Shopping Guide Experts Live By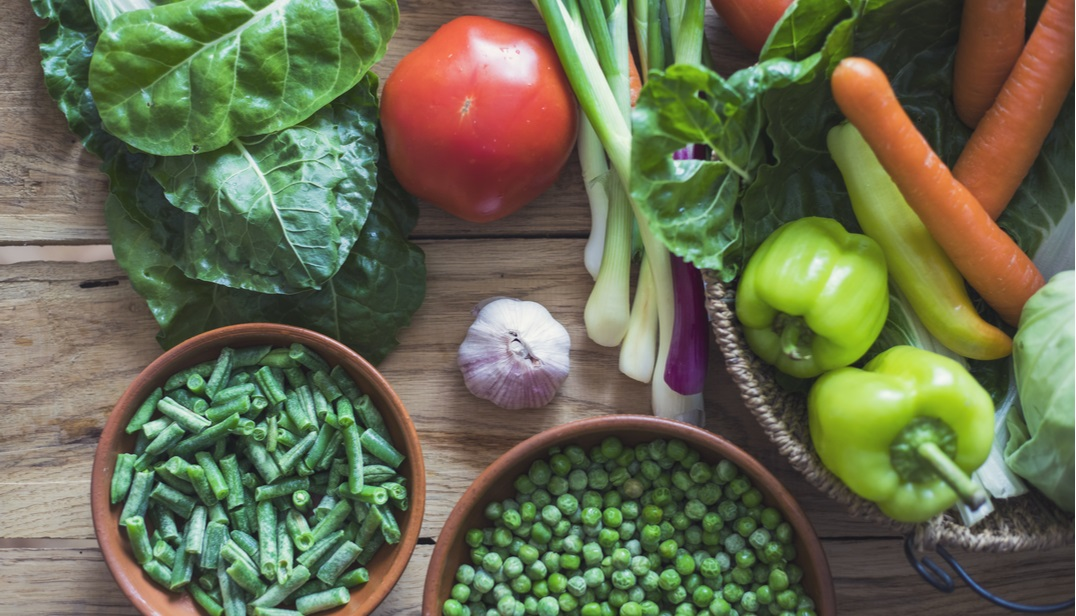 Grocery shopping for a whole-food, plant-based diet may seem daunting, but it's actual fairly easy with some planning. To get some insight on how to navigate the market like a pro, we chatted with Chrissy Roth—a nutrition expert and consultant on The Big Fat Truth. Check out the list below and make sure to follow these guidelines, while coming up with some fun ideas for your own plant-based shopping list.
If you're looking for even more information to help with your plant-based diet, check out Z Living's original show The Big Fat Truth, where host JD Roth addresses the real reasons people struggle with weight, and gives them the tools to help transform their lives.


Your Plant-Based Grocery Store Guide
Fruits and Veggies

First thing's first, make sure to always have at least six types of fresh, organic fruit at all times. This may include lemons, limes, berries, bananas, and anything else in season. Organic frozen fruits are also a great option, as they don't go bad, and work just as well when making smoothies.

For vegetables, if it's green, it's golden. Chrissy Roth happens to enjoy romaine lettuce the most, because it's healthy and filling. Combine that with some shallots, which are great for dressings, and you have the makings of a great salad. Starchy veggies like potatoes and squash are also great for a plant-based diet, as they are filling and delicious, especially when roasted.
Grains, Legumes & Nuts
Sprouted grain bread is always a great option, and if you need anything gluten-free (like Chrissy does) then there are choices everywhere. Remember that brown is your friend when picking grains, so brown rice and wild rice are always healthy replacements for refined white rice. You may have never heard of them, but spelt and gamut are also healthy grains that can be found in most grocery stores. Additionally, lentils, beans and quinoa are great fillers. Nuts and seeds are simple, just make sure they are raw and organic.


Milks

Unsweetened almond milk is your best option and can be made at home if you have the time. Canned light coconut milk is also great and can be used for dishes that include curry.
Jarred & Container Products

A jar of crushed tomatoes goes a long way and can be used for so many sauces. If you want to buy pre-made tomato sauce, go low-oil and and low-sugar, such as Trader Joe's organic marinara. According to Chrissy Roth, Rao's sauce is another fantastic option to top dishes with, such as her roasted peppers with quinoa, and it only requires a couple teaspoons to add flavor, because of the high amounts of oil and sugar. Lastly, don't forget to always add some veggie broth to your shopping list as it is used as an oil substitue for many plant-based eaters.


High Protein Sources

For more protein in your plant-based diet, grab some tempeh and organic sprouted tofu. Just add some delicious flavors to these plant-based ingredients taste like their beefy counterparts. Chrissy Roth suggests buying Beyond Meat Fiesta "beef" and "beefy crumbles," and using them in moderation, because they are processed.


Condiments

There are a few condiments that you should always have on hand, such as nutritional yeast (great cheesy flavor and protein punch) and Bragg amino acids. Everyone loves ketchup and dijon mustard, so when you buy them, get low-sodium versions. Also, if you drink coffee with cream normally, be sure to pick up some soy creamer for your plant-based diet. Lastly, and most improtantly, be sure to always have LOTS of dried and fresh herbs on hand for your plant-based or vegan recipes.
Accessories
Vitamix! is a high-performance blender Chrissy Roth's favorite and most used appliance, which has worked like a charm for her for over ten years. Beyond blending, if you don't have an instant pot or pressure cooker, it is time to invest in one. It cooks rice, beans, and pretty much everything immediately. There are also the obvious kitchen items that should be around you whenever you are cooking—a set of non-stick pots and pans of all sizes, good sharp knives, and a food processor/chopper. If you are really looking to dive head first into this plant-based diet, then look into a hand-held immersion blender and Mandoline slicer.