Are You Ready To Take On The Bootcamp Workout With Health Soup?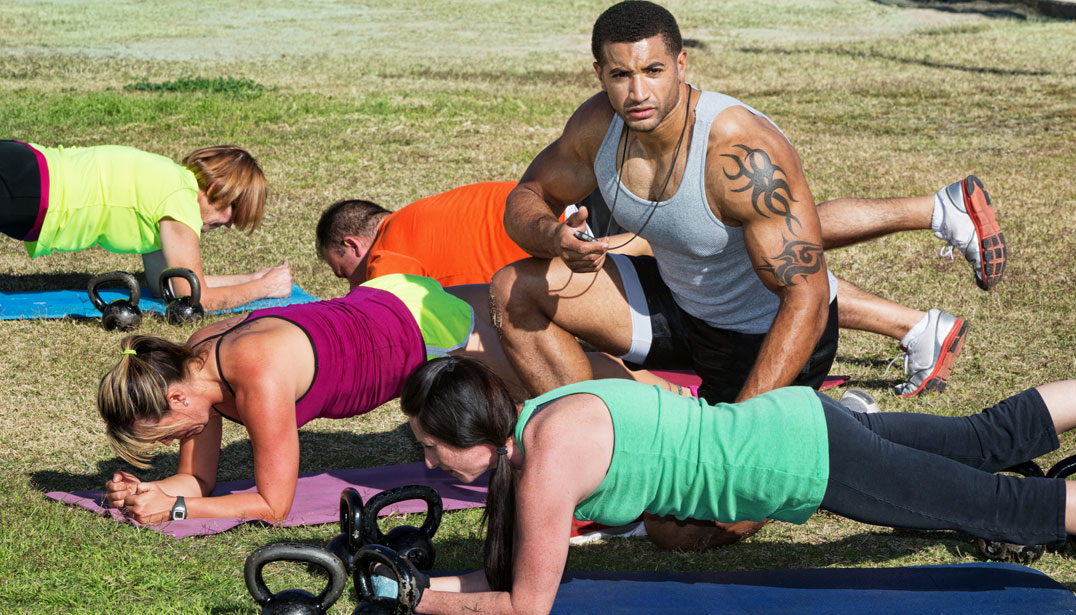 Not for the faint-hearted, bootcamp training is a modern take on the old-school military practice and has been popularized by celebrities like Kim Kardashian, Jessica Biel, Sandra Bullock, and Carrie Underwood. Bootcamp rookies sweat, burn, and tone at trainer Barry Jay's studios.
If your goal is to get in shape fast like a celebrity A-Lister, then sign up for a bootcamp class to push yourself, build endurance, shake off that stagnating weight, and get an exhilirating workout you will never forget. So, are you ready to get in line?
What To Expect
Simply put, fitness bootcamps are a mix of strength training and aerobic exercises.
The premise of this workout is interval training
—bursts of intense activity alternated with intervals of lighter activity. Whew! Just talking about it made us work up a sweat!
Want to see this in action? Our Health Soup host David Price took a crash course in the East-West Chi Bootcamp with John Nies, the owner of Power Center and creator of the routine. His take revolves around Tai Chi and functional training, and is a milder version of the gruelling military style bootcamp conducted by the likes of Barry Jay. Consider this your introductory class before you are ready to move things to the next level:

The benefits of a bootcamp vary based on the type of camp you have signed up for. The effective results from HIIT have given rise to various types of bootcamp routines:
Now, we've discussed the program multiple times in the past (
check it out here
), but let's talk about what makes a bootcamp class such a great option for those who want to stay motivated to workout:
Strength In Numbers: Bootcamp classes could have up to 50 participants (sometimes even more) who are doing the same routine simultaneously. Not only does this help you keep a check on your technique, but it makes the workout fun as you share notes and tips and see others going through the same struggles; it even taps into your competitve side. Working out in a group is a definite way to keep you committed to a fitness program because exercise partners (or in the case of a bootcamp, fellow cadets) provide a powerful combination of support, accountability, and motivation.
They're Not Cheap... and that's a good thing in some ways. Bootcamp classes on average range between $100-250 per month (4-8 classes). At that price, you'll be kicking yourself in the butt for not showing up.
Sir, Yes Sir!: No ordinary gym instructor, expect to find a disciplined trainer with a drill-sergeant-type deameanor leading the group. You'll be pushed to keep up with the commandments, right through the class. This works as a great motivator and lets you challenge your limits; also, everything moves along so fast, there's no way you'll be bored.
The Results Are Phenomenol: With body tone like never before, the bootcamp shred with its interval training format is one of the most effective workouts out there. You build your endurance levels, stamina, bone strength, and have great reflex action as you shed that flab into oblivion. On a mental level, it's an amazing outlet for your mood swings and tension build-up, and will help you see things clearly as the body releases happy hormones while you workout. Need some alone time and want to tune out the world? There's nothing like a bootcamp workout!