Behind The Scenes Of Namaste Yoga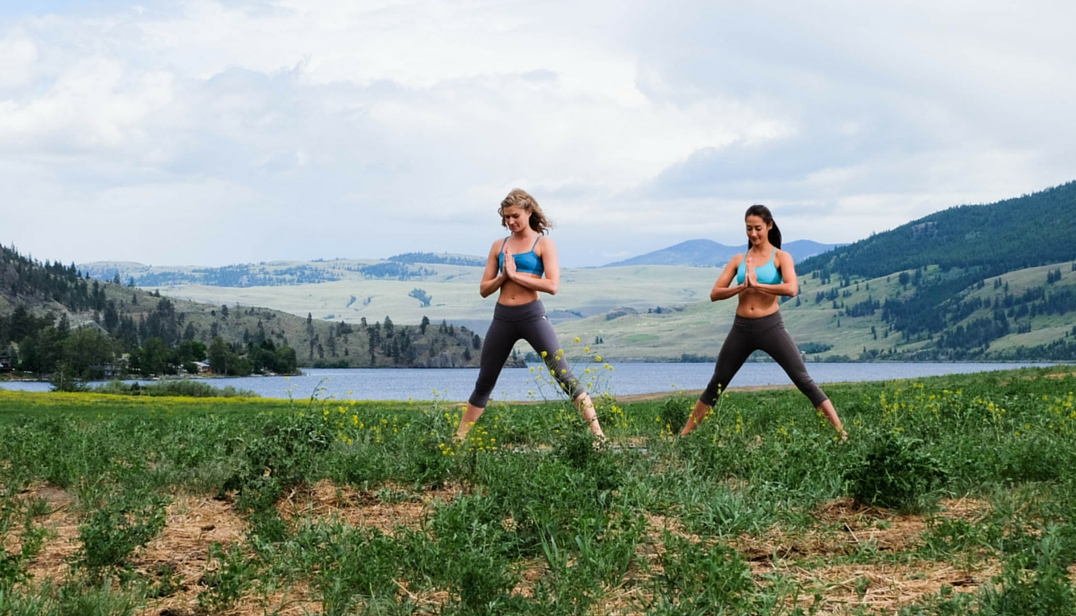 What was it like to travel through the wilderness of British Columbia with the instructors of Namaste Yoga? We asked Amanda Riches of Namaste Yoga. Amanda shares her experience as an
on-screen yoga instructor
and inspires us to head to the beautiful hills of British Columbia (affectionately called BC by those who know it best).
For many people, yoga is a mini-vacation, a moment of calm, a chance to be transported out of their every-day life. So when we made Namaste Yoga, we decided not to film in another yoga studio, but to take inspiration from the incredible place where we live British Columbia, the west coast province of Canada. In a sense Namaste Yoga is a love letter to nature, to experiences and to the Pacific North West. There sure is a lot to love!
Vancouver
If you travel to BC, you're likely to fly or drive into Vancouver, the perfect hub for your Canadian getaway. Perched between mountains and sea, it's only a 30 minute drive to spectacular water and land activities like hiking, camping, whale-watching, boating and more. But don't be too quick to leave! The City of Glass has a lot to offer world-class shopping and dining, year-round festivals and live shows, bustling harbors and beautiful parks. Explore historic Gastown (where we work) and Chinatown (where we shot the show's Chinese garden scenes), bike the seawall at Stanley Park or check out one of the many museums and art galleries. And of course, Vancouver loves its yoga!
Among the Trees

If you were playing guess-the-location with our yoga videos, you'd find the tree scenes impossible.BC is covered by incredible forests, including some old-growth trees that are over 800 years old. Hiking, mountain biking and camping are favorite pastimes in BC, and wherever you go you're sure to find oceans of Douglas Fir and cedar. If you're in Vancouver, check out the Capilano Suspension Bridge and Stanley Park, or for a real challenge hike the Grouse Grind. We filmed our forest scenes in Squamish, just north of Vancouver, but you really can't go wrong looking for trees in BC.
On the Beaches
Ok, when you think beaches you probably think Mexico or Hawaii and when you think Canada you think snow, right? BC beaches may be a little bit colder we'll admit, but not that cold and they're also the perfect balance of clean, safe and affordable, with access to all your favorite water activities like scuba-diving, whale-watching, surfing and boating. For Namaste Yoga we filmed our beach scenes at Spanish Banks, right in the heart of Vancouver. You don't have to leave the city to hit up several great beaches, but you can also check out White Rock for a boardwalk experience or Long Beach on Vancouver Island for world-class surfing.
Orchards and Lakes
Once you've had your fill of the coast (is that even possible?), you can head east to BC's interior. The Okanagan is a region of the province known for its sunny climate, rolling hills, fruit orchards and vineyards. It also offers great outdoor activities, including water sports on its many lakes. Okanagan Lake was the backdrop for many of our beautiful lakeside scenes. Whether you're planning an actual vacation or just taking half an hour on the mat, we hope you'll enjoy the natural beauty of British Columbia. And if you ever make it to Vancouver, give us a shout!