Chef Jeff's Breakfast Eggs & Farm-To-Table Salad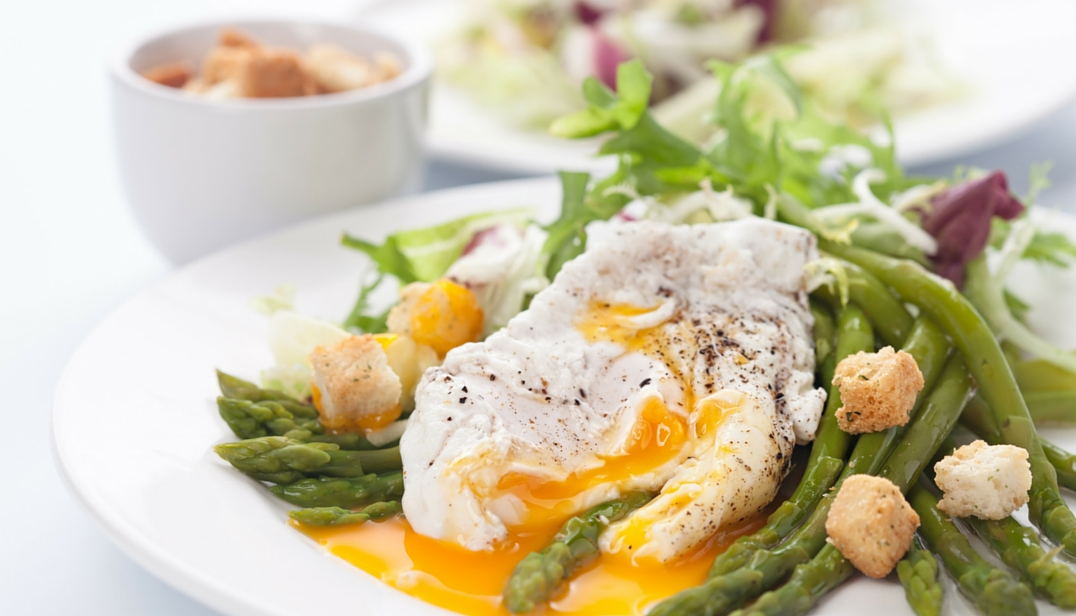 A good day begins with a healthy breakfast. And a great day begins with a healthy farm-fresh breakfast crafted by Chef Jeff Henderson. When done right, a healthy breakfast can boost metabolism, fuel you through the morning, and inspire an all-around healthy day full of good energy. Here we have two delicious farm-to-table breakfast recipes that are perfect for a summertime brunch. Make these recipes your own by substituting in what's local and in season in your area.
Breakfast Eggs
Ingredients
½ bunch asparagus, roasted
2 eggs
1 tbsp. parsley, chopped
1 tbsp. Parmesan, shaved
Salt and pepper to taste
Olive oil butter blend
Crystal Hot Sauce
Instructions
In a small skillet, heat up olive oil or butter, add two eggs and parsley and cook for two minutes for sunny side-up. Add some Crystal hot sauce and shaved Parmesan cheese for extra taste. Plate eggs alongside roasted asparagus and enjoy.
Farm To Table Salad
Ingredients
1 head frisée
½ bunch kale
1 tomato
1 ear of corn, charred
1 cup green beans, blanched
3 tablespoons Pecorino Romano cheese, grated
¼ cup extra virgin olive oil
3 tablespoons balsamic vinegar
1 tablespoon jalapeno mustard
1 shallots, sliced
1 clove elephant garlic
½ avocado
salt and pepper to taste
Instructions
Mince the elephant garlic and shallots, then cube the avocado half. In a small bowl, whisk olive oil, vinegar, mustard, garlic, shallots, salt and pepper. Stir in the avocado cubes, then refrigerate one hour before serving over kale.