This Is The Easiest, Tastiest Plant-Based Stir Fry Recipe Ever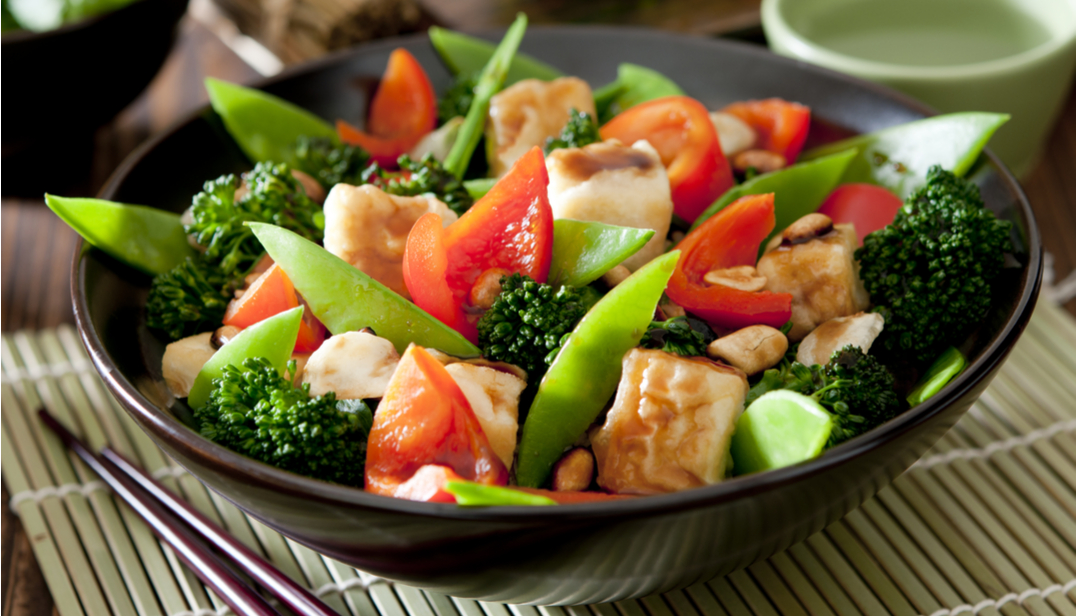 What's for dinner, when you're eating a plant-based, vegetarian, or just plain healthy diet? We've got an ultra-easy, healthy go-to option for you: This healthy vegetable and tofu stir fry. Straight from Z Living's newest original series The Big Fat Truth, and made by plant-based nutrition consultant Chrissy Roth (the wife of host JD Roth) this whole food, plant-based dinner recipe is a dinner winner.

On The Big Fat Truth, the types of food that participants choose can be a huge hurdle to tackling their weight problems. Switching to a whole food, plant-based diet, as each person does in the show, can be one of the healthiest decisions you can make. Curious about trying out a plant-based diet? Give this recipe a try.


Ingredients:
1 1/2 cup brown rice
4 cup chopped broccoli cut into small pieces (about 1/2 - 3/4 inch florets)
2 carrots chopped into matchsticks
1 cup sugar snap peas cut into 1/2 inch pieces
2 minced garlic cloves
2 red peppers diced into 1/2 inch pieces
1/4 cup cashew pieces
1/4 3 tbsp low-sodium tamari
3-4 tbsp rice wine vinegar (or more to taste)
1/4 tsp ginger (or more to taste)
1/4 tsp red pepper flakes (or more to taste)
1 tsp sesame oil
Optional: 1 8 oz. package of sprouted tofu drained and cut into 1/2 inch pieces
Optional: 1 small can water chestnuts cut into small pieces
Directions:
If using sprouted tofu, drain, cut into 1/2 inch pieces, then spray with coconut oil and bake at 375 for 20 minutes (or until light brown).
Cook the rice according to package directions.
Use the water broth sauté technique to sauté the broccoli, peas, garlic, and peppers. (You can also sauté the vegetables in vegetable broth or stock). After a few minutes, add the carrots. Sauté until the vegetables are tender but still a bit crisp, not soggy.
Toast the cashews in a hot pan until light brown (you can also use pre-toasted cashews).
For the sauce, combine tamari, rice wine vinegar, ginger, red pepper flakes and sesame oil in a seperate bowl; adjust amount of vinegar, ginger, and pepper flakes to taste.
Add the baked tofu and water chestnuts to the sautéed vegetables. Pour the sauce mixture over top. Add the water chestnuts, if desired. Gently combine and heat on low until the vegetables are coated. Mix in the toasted cashews right before serving.
Serve over rice.