Beet Salad Orange-walnut Dressing from Urban Vegetarian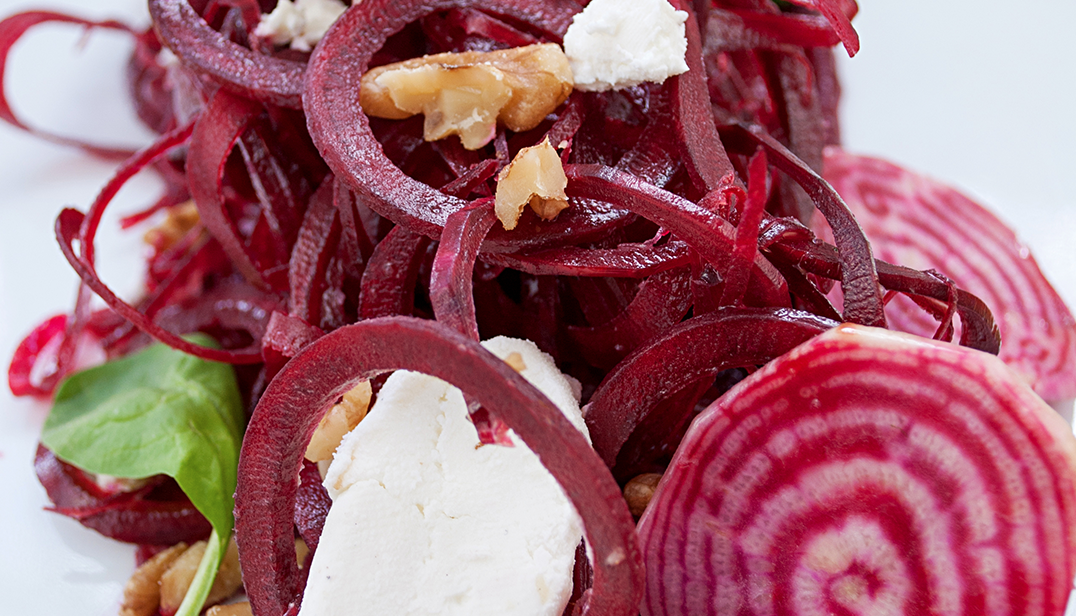 BEET SALAD WITH ORANGE-WALNUT DRESSING
Orange-walnut dressing
Ingredients:
2 tablespoons (30ml) walnut oil
1 garlic clove, sliced
1 teaspoon (5ml) honey
Juice of ½ orange
Salt and ground pepper to taste
Method:
Place all ingredients in a blender or food processor and mix until completely smooth.
Set aside until ready to serve salad.
Salad
Ingredients:
4 beets
1 cup (240ml) baby spinach
¼ cup (60ml) walnuts, chopped
¼ cup soft goats' cheese, crumbled
1 teaspoon (5ml) baby thyme, for topping
Method:
Peel and trim beets and spiralize into noodles.
Put baby spinach leaves on plate. Top with beet noodles.
Add chopped walnuts and crumbled goats' cheese.
Pour orange-walnut dressing over top.
Garnish with baby thyme.
Enjoy!
Get more recipes from Urban Vegetarian and find out when to watch
here
.