Lettuce Wraps from Urban Vegetarian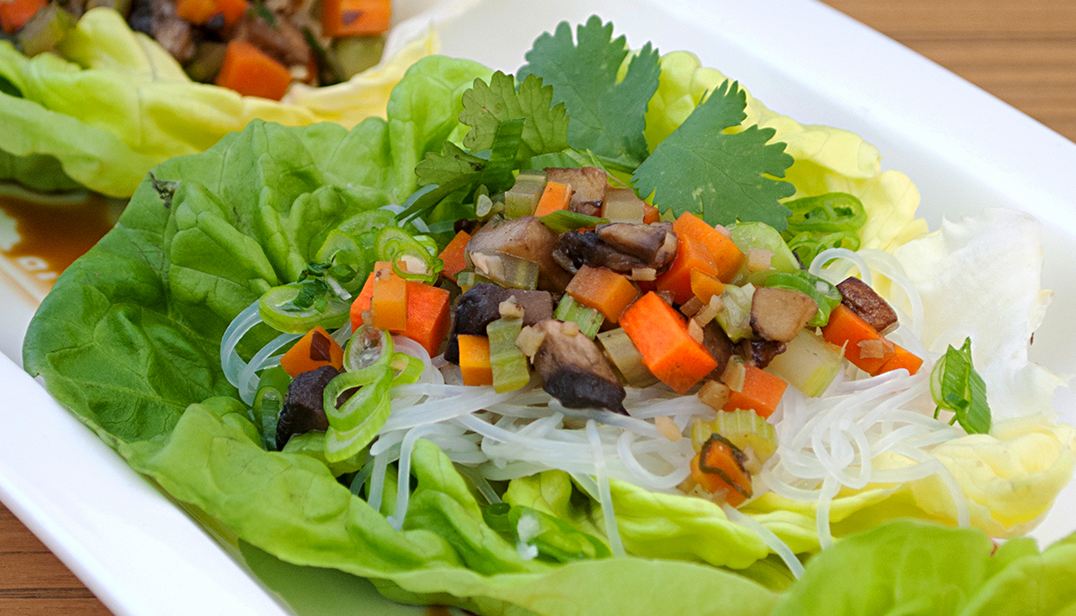 LETTUCE WRAPS
Tamari-ginger sauce
Ingredients:
1 teaspoon (5ml) ginger, minced
2 teaspoons (10ml) apple cider vinegar
1 teaspoon (5ml) sesame oil
1 teaspoon (5ml) peanut oil
¼ cup (60ml) tamari
2 tablespoons (30ml) honey
1 tablespoon (15ml) peanuts, crushed
Method:
Mix all ingredients together.
Wraps
Ingredients:
½ cup (120ml) carrot, diced
½ cup (120ml) celery, diced
2 green onions, sliced thinly
1 garlic clove, sliced
1 tablespoons (15ml) olive oil
1 Portobello mushroom cap, cleaned and cut into small pieces
½ cup (120ml) tamari-ginger sauce (see above recipe)
¼ cup (240ml) cellophane/glass noodles, cooked
6-8 Bibb lettuce leaves
Method:
Add olive oil to skillet and heat.
Add diced carrots and celery, and sliced green onion and cook.
Add chopped mushroom to skillet and sauté until softened.
Pour tamari-ginger sauce into skillet and stir to combine.
Take the skillet off the heat.
Take a Bibb lettuce leaf. Add cooked glass noodles. Spoon some of the filling over top.
Fold.
Enjoy!
Get more recipes from Urban Vegetarian and find out when to watch
here
.