Almond Flour Cake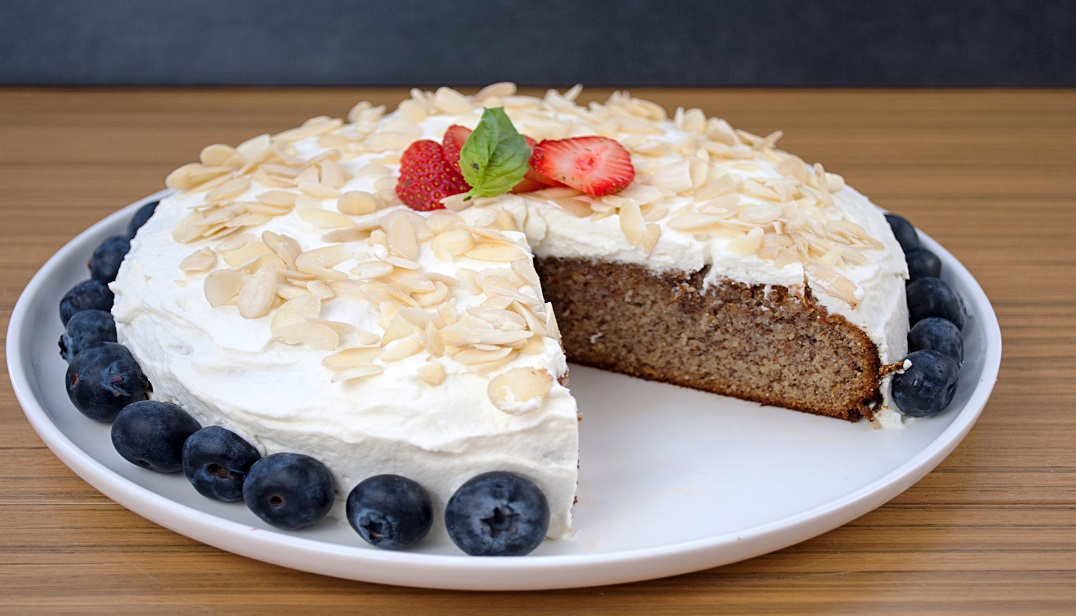 Almond Whipped Cream

Ingredients:
1 cup (240ml) cream
½ teaspoon (3ml) almond extract
3 tablespoons (45ml) honey

Directions:
Using an electric hand mixer, mix cream, honey and almond extract into stiff peaks.Set aside until ready to frost cake.

Almond Flour Cake

Ingredients:
1½ cups (360ml) almond flour
4 eggs, whites and yolks separated
1/3 cup (90ml) honey
1 teaspoon (5ml) baking powder
¼ teaspoon (1ml) salt
Zest of half an orange
½ teaspoon (3ml) almond extract
Almond whipped cream, for topping
Sliced almonds, for topping

Ingredients:
Preheat oven to 320
°F (160°
C). In a large mixing bowl, mix together egg yolks, baking powder, salt. Add orange zest, almond flour, honey, almond extract and stir to combine. In a separate bowl, beat egg whites until twice the size. Fold egg whites into flour mixture until thoroughly combined.Pour mixture into greased 9-inch springform pan.
Bake cake in oven for approximately 35 minutes until golden. Insert a knife into middle to test for doneness. Let cake cool. Run knife around inside ring to free cake from pan. Remove ring. Frost with almond whipped cream. Enjoy!




Get more recipes from Urban Vegetarian and find out when to watch

here

.