Veggie Soba Noodles with Peanut Dressing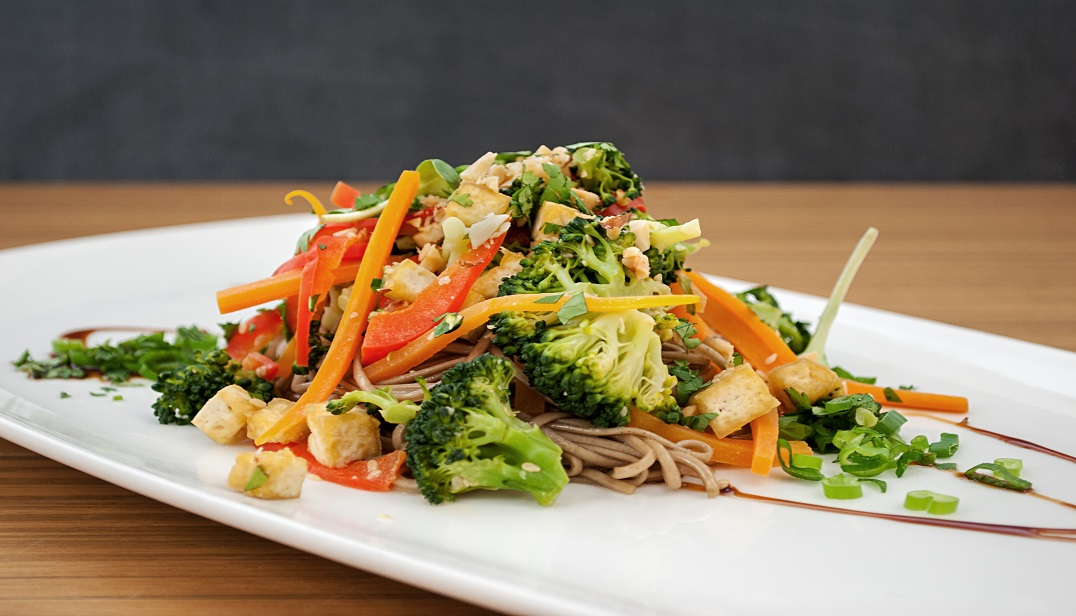 Peanut Sauce

Ingredients:
3 tablespoons (45ml) smooth natural peanut butter, warmed up
1 tablespoon (15ml) rice vinegar
1 tablespoon (15ml) coconut oil
2 tablespoons (30ml) tamari or soy sauce
1 tablespoon (15ml) brown sugar
1 clove garlic, minced
1 tablespoon (15ml) lime juice

Directions:
Add ingredients to a bowl and whisk to combine.

Veggie Soba Noodles

Ingredients:
2 cup (480ml) soba noodles, cooked
1 block firm tofu, cubed
1 red pepper, thinly sliced
1 head of broccoli, florets only
¼ cup carrots, chopped into matchsticks
2 green onions, sliced
1 clove garlic, minced
1 tablespoon (15ml) fresh cilantro, chopped
Coconut oil, for frying
Peanut dressing (see recipe)
For topping: wedge of lime, crushed peanuts

Directions:
Put cooked soba noodles in a bowl.Heat coconut oil in a skillet on the stove. Put cubes of tofu into skillet and cook until golden.Place cooked tofu into bowl with soba noodles.Add more coconut oil to the empty skillet and heat. To skillet, add minced garlic and sauté for a minute. Add broccoli florets, carrots, and red peppers. Stir to combine.Put cooked veggies in bowl with noodles and tofu.Add chopped cilantro to the top.Pour peanut dressing over top.Top with crushed peanuts and a wedge of lime on the side.Enjoy!