A Fresh Blueberry-Salad Recipe From Chef Jeff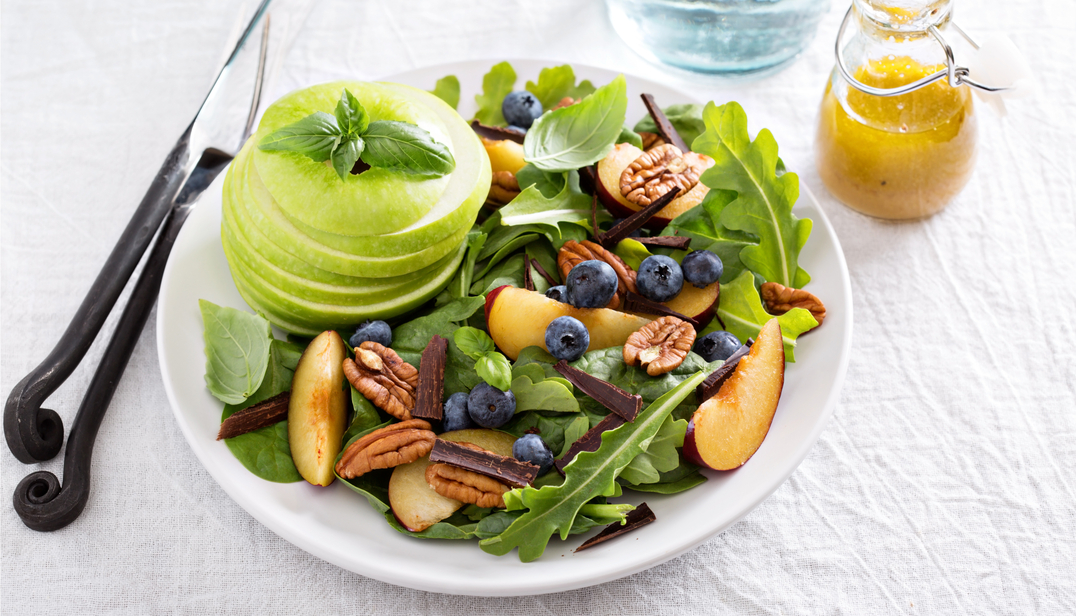 This fresh blueberry salad recipe from chef Jeff Henderson and our popular cooking show Flip My Food works wonderfully to complement any sunny afternoon, or summer barbecue. Take advantage of the season's great produce, and create a tasteful and healthy meal for your friends, your family, and yourself.

For this dish, chef Jeff mixes some fresh spinach with avocados, blueberries, and other garden favorites—a vegan summer recipe with plenty of fiber and nutrients, topped with a tasty poppy seed dressing.


Ingredients:
Salad
6 cups fresh baby spinach or other greens, stems removed
1 pint fresh blueberries
1 ½ avocado, diced
2 ½ ounces Gorgonzola cheese (vegans may sub out, or replace with non-dairy gorgonzola)
¼ cup walnuts, toasted
½ red onion, thinly sliced
Optional: Add peaches, apples, or other fruit too!
Poppy Seed Dressing
½ cup avocado oil
3 tablespoons apple cider vinegar
2 tablespoons pure local honey (vegans substitute agave nectar)
1 tablespoons poppy seeds
1 pinch of ground dry mustard
Sea salt to taste
Fresh ground black pepper to taste
Directions:
For the dressing, shake all ingredients together in a mason jar.
Gently toss all ingredients together until combined. Drizzle with desired amount of dressing. Serve immediately.


Alterations For Vegan & Plant-Based Diets:
Obviously salads are one of the hallmarks of vegan diets, and whole food, plant-based diets. For the most part, this blueberry salad recipe is plant-based, but the gorgonzola cheese does land in a no-fly zone of sorts for those who have cut out dairy. You can just skip it, or there are also
dairy-free gorgonzola recipes
out there, to help you turn this into a plant-based-friendly recipe. For it to work as a vegan recipe, skip or swap out the gorgonzola as well, and trade out honey (an animal product) for a vegan-friendly substitute like agave.