How To Make "Flipped" Pulled BBQ Chicken Sandwiches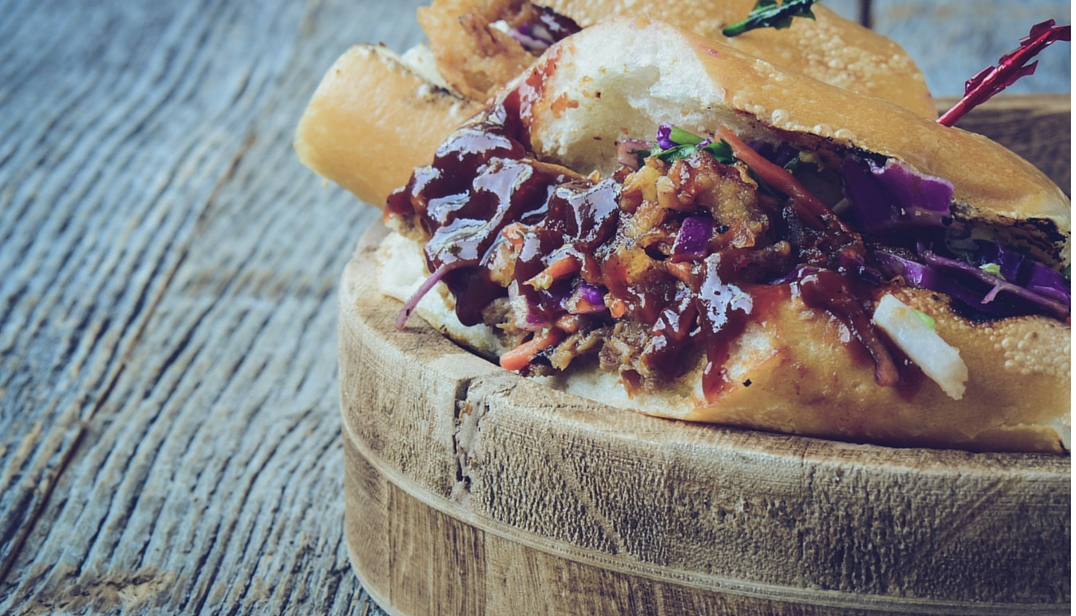 Chef Jeff of Flip My Food knows how to pull apart a traditionally greasy, unhealthy dish and flip the recipe for the better. So when Chef Jeff flipped this classic pulled chicken recipe, we took notes for our summer BBQ wishlist. Chef Jeff's pulled BBQ chicken sandwiches cut out a lot of the unhealthy fats and ingredients found common pulled chicken sandwich recipes, but he still maintains the delicious rich flavor meat lovers can't get enough of.

Ingredients
For the Chicken
Cooking spray
1 teaspoon salt
1 teaspoon ground black pepper
1 teaspoon onion powder
1 teaspoon garlic powder
1 teaspoon paprika
3 drumsticks
2 thighs
2 breast
For the BBQ Sauce
:
2 teaspoons canola oil
1/2 cup finely chopped onion
1 tablespoon dark brown sugar
1 teaspoon chili powder
1/2 teaspoon garlic powder
1/2 teaspoon dry mustard
1/4 teaspoon ground allspice
1/8 teaspoon ground red pepper
1 cup ketchup
2 tablespoons cider vinegar

For the Cole Slaw:
½ cup mayonnaise
½ cup sour cream
½ cup buttermilk
1 tablespoon apple cider vinegar
1 teaspoon salt
½ teaspoon pepper
1 teaspoon onion powder
½ teaspoon garlic powder
1 pinch sugar
½ medium cabbage, shredded
½ small red cabbage shredded
1 large carrot, shredded
½ small onion, finely chopped
1 jalapeño, deseeded and finely chopped
4 brioche buns, toasted
Directions:
1.Preheat grill to medium-high heat
2. For Chicken: Heat oven to 375 degrees, combine salt, pepper, onion powder, garlic powder, and paprika in a bowl and mix well. Season chicken with spices. Place chicken on a grill and grill 6 to 8 minutes until desired grill marks are reached, turning occasionally. Place chicken in oven on 375 degrees for about 10 minutes or fork tender. Let stand for 5 minutes. Shred chicken with 2 forks and add ¼ cup of barbecue sauce.
3. For barbecue sauce: Heat canola oil in a medium saucepan over medium heat. Add onion and cook for 5 minutes or until tender, stirring occasionally. Stir in brown sugar, chili, garlic powder and mustard. Cook for about 5 minutes. Stir in ketchup and vinegar and bring to a boil. Reduce heat, and simmer for 5 minutes or until sauce slightly thickens, stir occasionally.
4. For Cole Slaw: Whisk together ingredients and set in refrigerator to chill. In a large bowl, toss together cabbages, carrots and onions. Pour in slaw dressing and mix well. Serve immediately or refrigerate until ready to serve.
Toss the meat in barbecue sauce and place on a bun. Top with coleslaw and place the other bun on top.
Get more recipes from Flip My Food
here
.