RECIPE: Chef Jeff's Sweet Potato & Acorn Squash Soup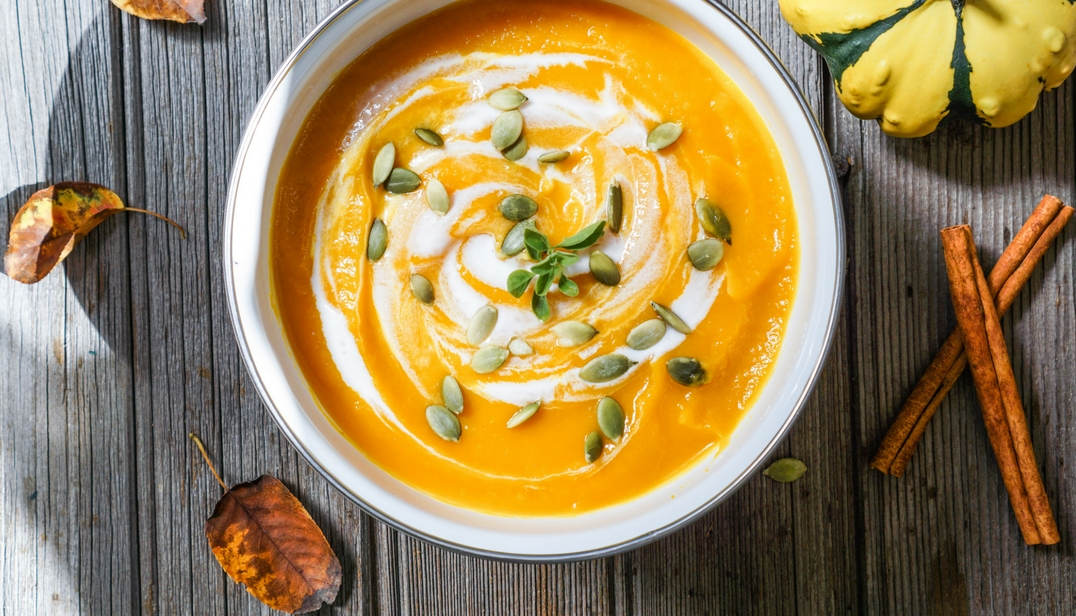 Chef Jeff Henderson of Z Living's show Flip My Food is our go-to guy for delicious recipes "flipped" into healthier versions.



And with sweet potatoes and squash now in season, we whipped up Chef Jeff's Sweet Potato Acorn Squash Soup for a tasting. We loved it!
Acorn squash has a uniquely sweet, nutty, almost peppery flavor that is perfect for a fall meal. The carotenes in winter squash play a crucial role in helping your body produce vitamin A.

Chef Jeff pairs this healthy ingredient with sweet potato, which is also an excellent source of carotenes, as well as Vitamins C and B6. In addition, sweet potatoes contain unique root storage proteins, which have unique antioxidant properties that are great for your health.


Ingredients
4 cups chicken stock
2 cups acorn squash, seeded, cubed, and blanched
1 cup almond milk
3 garlic cloves, minced
2 red pears
2 strips of bacon, diced
1 white onion, chopped
1 sweet potato, peeled, cubed and blanched
1 bundle of sage, thyme and cinnamon and onion
2 tablespoons olive oil-butter blend
1 tablespoon maple syrup
Dash cinnamon
Dash nutmeg

Method
- In a pot, add chicken stock, acorn squash, sweet potato, red pear and herb bundle, and bring to a simmer
- In a skillet, melt olive oil-butter blend
- Add bacon and onion to skillet
- Add garlic to skillet
- Add cooked acorn squash, pear and potato to skillet, along with half of the cooking liquid
- Using a hand blender, emulsify the ingredients
- Stir in almond milk
- Stir in maple syrup
- Add a pinch of cinnamon and nutmeg and serve