RECIPE: Delicious Sweet Potato Braised Pork Dumplings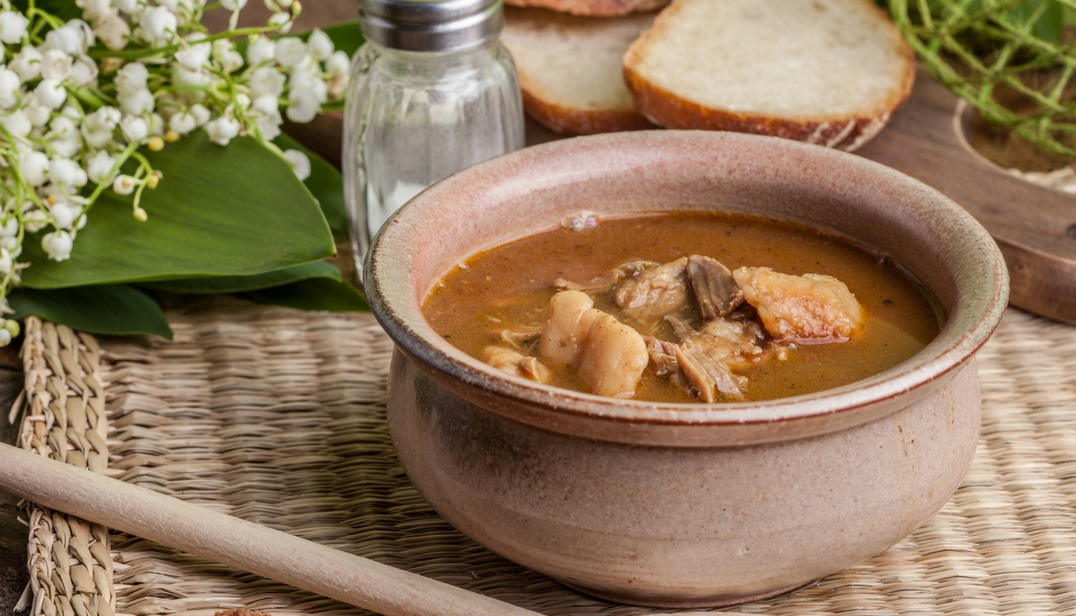 2 pounds pork shoulder, braised and chunks pulled off
4 cups chicken stock
4 garlic cloves, minced
3 celery ribs, chopped
2 sprigs of thyme
1 bay leaves
1 onion, chopped
1 green bell pepper, chopped
3 tablespoons all purpose flour
2 tablespoons of olive oil
2 tablespoons olive oil-butter blend
Salt, black pepper and cayenne pepper to taste
4 cups chicken stock
3 cups braising liquid
2 cups self-rising flour
1 cup sweet potatoes, peeled and boiled
¼ cup olive oil butter blend
¼ cup almond milk
3 tablespoons vegetable shortening
2 tablespoons brown sugar
2 tablespoons cornstarch
1 tablespoon sage, chopped
1 teaspoon cinnamon
¼ teaspoon ground nutmeg
Salt and pepper to taste
Enjoy a cheat day with chef Jeff Henderson of
Flip My Food
, and his guest chef Paula Deen. They're making sweet potato and sage dumplings. Enjoy with your favorite pork stew. Watch the video or follow the recipe below to see how it's done!
Directions:
Braised Pork Cooking
Season pork with salt, pepper and cayenne pepper
In a braising pot, heat oil and sear pork in pot
Once seared, remove pork from pot, and in the same pot, add bell pepper, onion, celery and garlic
Once vegetables begin to sweat, add in bay leaf
Add olive oil-butter blend
Once vegetables are cooked down, add in pork
Add chicken stock to pot, and braise meat on low heat for about 2 hours
Dumplings Method
In a pot, sweat onions, green peppers, celery and garlic
Create a well in the center of the pot, and add flour to create a roux
Add in chicken stock
Stir in 2 tablespoons of butter
Season with salt and pepper to taste
Add braising liquid from braised pork to mixture, and bring to a simmer
In a mixing bowl, mix flour, shortening and olive oil-butter blend together
Add brown sugar, cinnamon and nutmeg to mixture. Add almond milk
Stir in sweet potatoes. Add sage. Add cornstarch
Turn dough onto floured surface, and roll into quarter-sized balls
Drop balls in simmering liquid to cook
Once dumplings are cooked and float to the top, add braised pork to pot, and serve
Get more recipes from Flip My Food
here
.