RECIPE: Love Peanut Butter? You've Gotta Try 'Flip My Food's Mini Peanut Butter Pie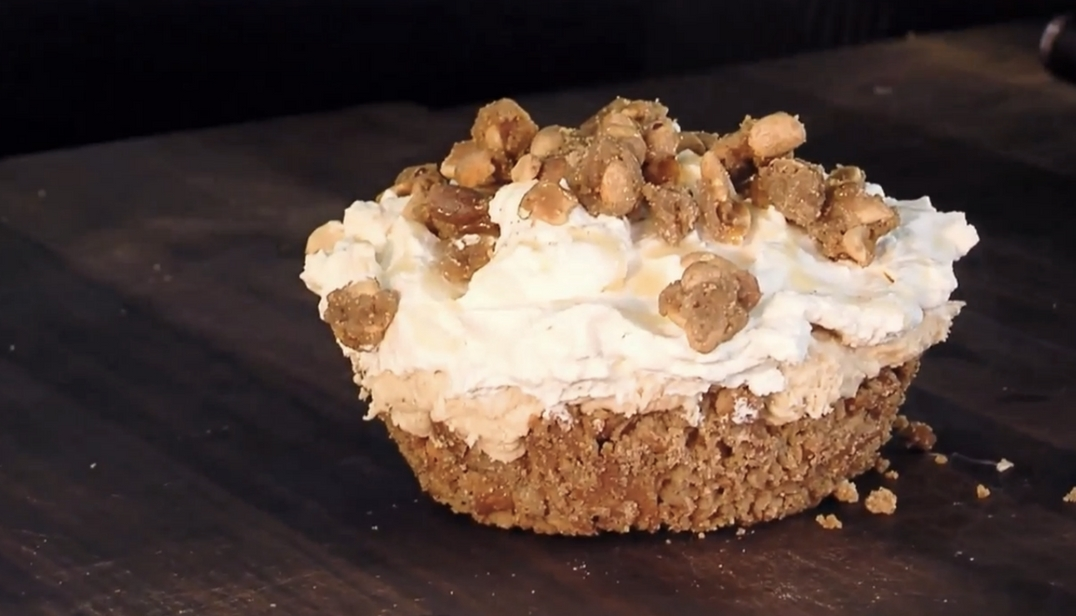 Do you love peanut butter? C'mon, who doesn't?! If you're a fan of this healthy treat, you've gotta try Chef Jeff of Z Living's popular show Flip My Food's recipe for a delicious peanut butter mini pie. It's a protein-packed dessert that can enjoyed on any occasion.

Ingredients:

Crust:
2 cups crushed low-fat graham crackers
¾ cup melted butter
3 tablespoons white sugar
Filling:
¾ cup creamy organic peanut butter
1 ¾ cup whipped cream
1 teaspoon vanilla
10 ounces whipped cream cheese
1 teaspoon cinnamon
1 teaspoon nutmeg
Topping:
¾ cups low-fat greek yogurt
2 tablespoons honey
½ teaspoon cinnamon
½ teaspoon nutmeg
1 cup candied peanuts for garnish
2 tablespoons honey for garnish
Directions:

Crust:
Preheat oven to 350 degrees
Evenly mix ingredients
Using fingers, spread crust mixture in small pie pans about ¼ of an inch thick
Bake for 3-5 minutes
Filling:
In mixer combine whipped cream cheese with peanut butter, vanilla, nutmeg and cinnamon until smooth
Mix in whipped cream on slow speed until incorporated
Spoon on pie pans to the brim
Refrigerate for 1-2 hours
Topping:
In mixing bowl, whisk all ingredients until smooth
Spread on top
Garnish with candied peanuts
Drizzle thin strands of honey on top for garnish
Get more recipes from Flip My Food
here
.