RECIPE: Make The Tasty Chicken Poblano Burrito From 'Flip My Food'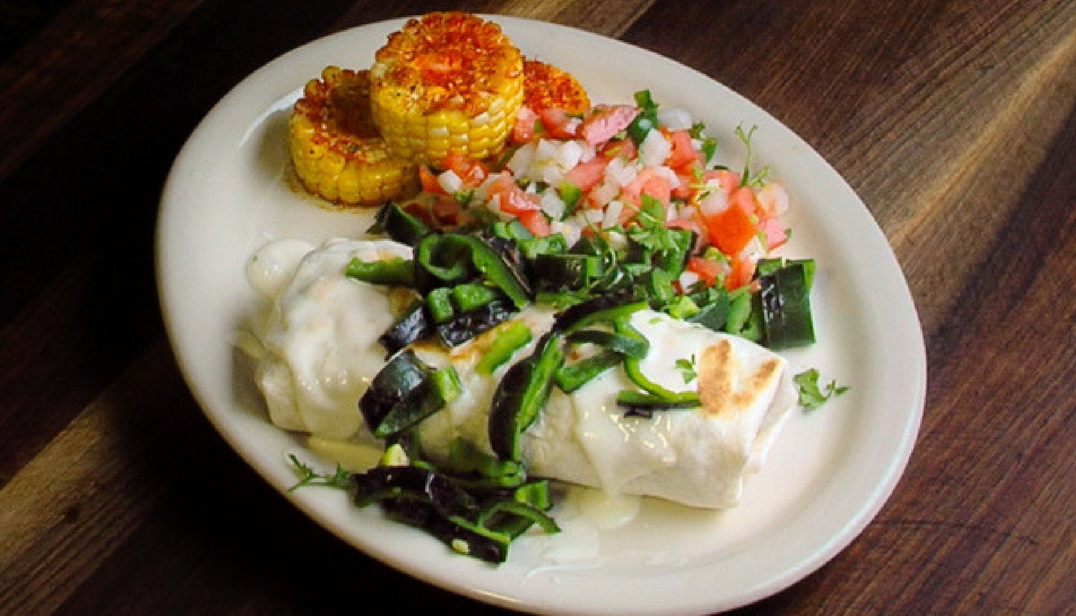 If you're a fan of Mexican food and Tex-Mex flavors, you'll love chef Jeff Henderson of Z Living's popular show Flip My Food
'
s
recipe for a tasty chicken poblano burrito. The dish is inspired by
Tumbleweed Tex Mex Grill & Margarita Bar's
similar popular recipe, and even plated to match, all from a visit that took place during an episode of the show. Think peppery chicken and jack cheese topped by sour cream, and served with seasoned corn rounds (mmm). Try it yourself today!
Ingredients:
1 10" flour tortilla
1 chicken breast
1/2 teaspoon chili powder
2 oz. jack cheese
2 oz sour cream
1 poblano pepper
Dash of vegetable seasoning
1 ear of corn
1 tbsp. margarine
Dash of paprika
Dash of salt and pepper
Directions:
For Burrito:
Cut chicken breast or cutlet into 1/2 strips and sprinkle with salt, pepper, and chili powder.
Cook chicken in a large nonstick skillet over medium-high heat until cooked through, 3 to 5 minutes.
Lay the 10" flour tortilla on the cutting board.
Place the chicken strips on the tortilla to within 1" of the edges.
Spread 2 oz. of jack cheese across the burrito
Roll burrito.
Warm in microwave for one minute.
Remove from microwave and cover with 2 oz. sour cream
Roast the poblano pepper directly over an open gas flame, using tongs to turn the chile until all sides are blackened and blistered.
Chop the roasted poblano pepper into 1/2" -1" squares
Place the peppers atop the burrito (end to end)
Sprinkle the entire burrito with veggie seasoning to taste.
For Corn Rounds:
Cut the ear of corn into rounds about 1 inch thick. Dip into melted margarine and season with salt and pepper.
Cook on a medium-hot grill, cut sides down, about two minutes per side.
Sprinkle with paprika, and stack the corn rounds on the bottom of the platter.
Get more recipes from Flip My Food
here
.