Deep Dish Pepperoni Pizza-Spencer Style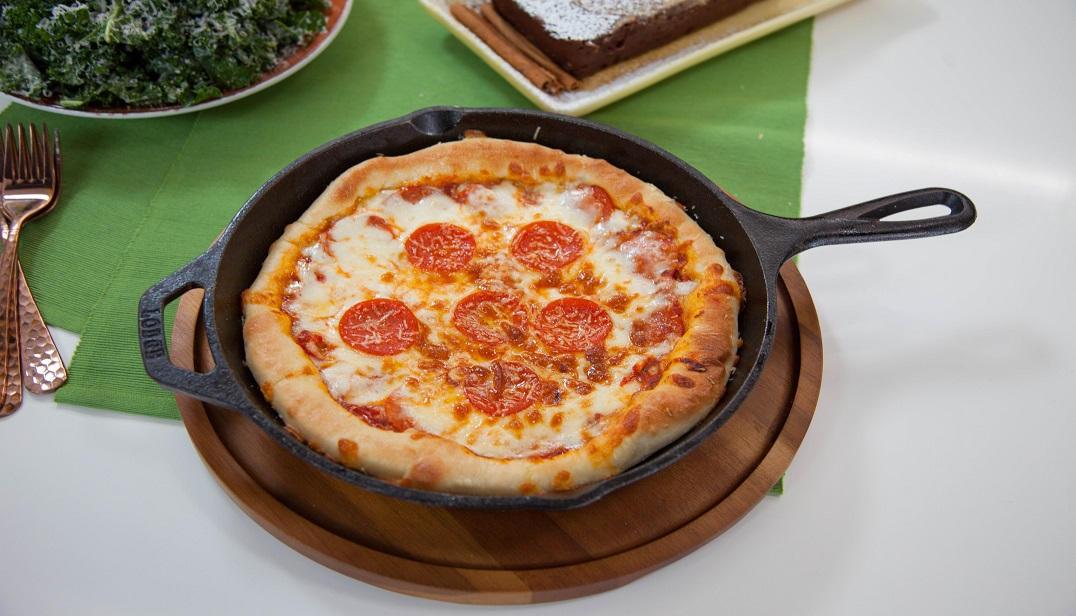 DEEP DISH PEPPERONI PIZZA

Ingredients:
¾ cup (180 ml) tomato sauce
2 tablespoons (30 ml) olive oil + more for drizzling
2 garlic cloves, minced

⅛
teaspoon (0.5 ml) salt

⅛
teaspoon (0.5 ml) pepper
1 pound (454 g) store-bought pizza dough
2 tablespoons (30 ml) cornmeal
7 ounces (198 g) pepperoni slices
1 cup (240 ml) grated mozzarella

⅓
cup (80 ml) grated parmesan cheese

Directions:
Preheat oven to 450
° F (230°
C).
In a small bowl, combine tomato sauce, olive oil, garlic, salt, and pepper. Set aside.
Roll or press out dough on a floured counter. Heat a skillet on the stove. Sprinkle cornmeal into skillet. Place dough in skillet, and press to cover. Press dough up the sides of the skillet to create a deep crust. Heat dough until it starts to bubble. Top with tomato sauce mixture. Place pepperoni pieces on top. Top with mozzarella and parmesan. Transfer skillet to oven. Cook 10-12 minutes, or until cheese is bubbly and crust is golden.
Remove from oven and drizzle with olive oil.

Get more recipes from Spencer's BIG 30 and find out when to watch
here
.