Butter Chicken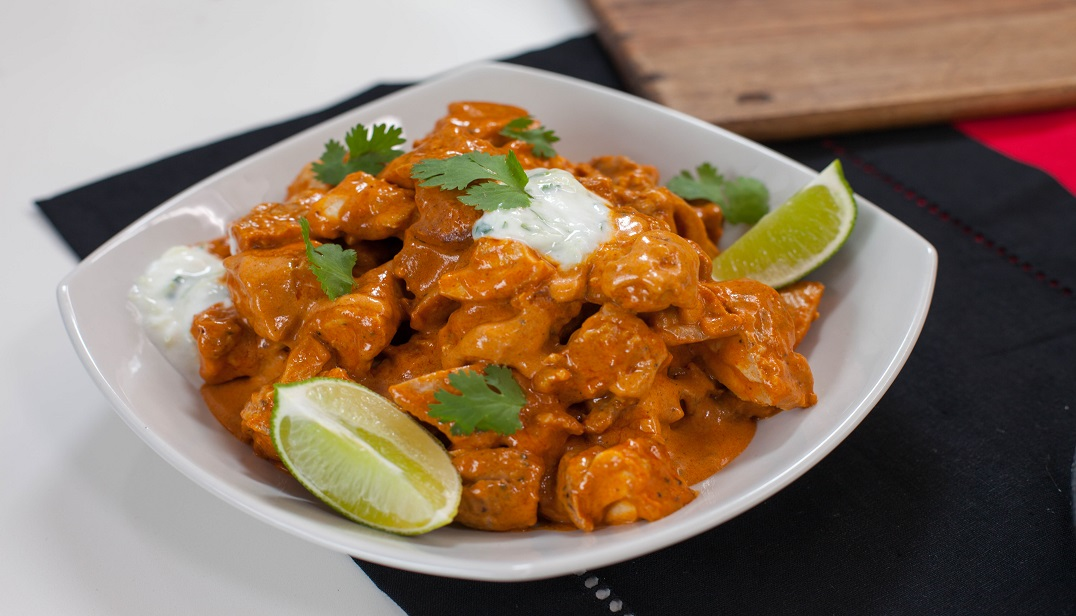 BUTTER CHICKEN

Ingredients:
3 tablespoons (45 ml) butter, divided
1 small onion, thinly sliced
3 garlic cloves, finely diced
1-inch (2.5 cm) ginger, finely diced
1 tablespoon (15 ml) curry powder
1 teaspoon (5 ml) garam masala
1 teaspoon (5 ml) cumin
1/8 teaspoon (0.5 ml) chili flakes (more if you like it spicy)
1/8 teaspoon (0.5 ml) salt
8 boneless, skinless chicken thighs
1 cup (240 ml) tomato sauce
1 cup (240 ml) heavy cream
Chopped cilantro, to garnish

Directions:
Heat 2 tablespoons (30 ml) of butter in large frying pan over medium-high heat. Add onions to pan and stir to coat in butter. Add garlic, ginger, curry powder, garam masala, cumin, chili flakes, and salt. Cook, stirring until fragrant and onions are translucent.
Dice chicken into 1-inch (2.5 cm) pieces. Add chicken to frying pan and stir to coat in spices, cook for 3-5 minutes or until no longer pink.
Pour in tomato sauce and stir to combine. Bring to a simmer. Cook for 12-15 minutes or until chicken is cooked through.
Stir in heavy cream and remaining butter. Cover and cook for 5-8 minutes.

Serve over Spiced Basmati Rice (see recipe) with Cucumber Raita and garnish with chopped cilantro.

CUCUMBER RAITA:

Ingredients:
1 English cucumber
1 ½ cup plain Greek yogurt
¼ cup (60 ml) chopped cilantro
½ teaspoon (2.5 ml) ground cumin
¼ teaspoon (1 ml) ground coriander
Salt and pepper

Directions:Grate cucumber into a bowl. Squeeze out excess liquid. Add cucumber, Greek yogurt, cilantro, ground cumin, ground coriander, salt, and pepper to a bowl and stir to combine.

Get more recipes from Spencer's BIG 30 and find out when to watch
here
.