Sweet Potato Rostis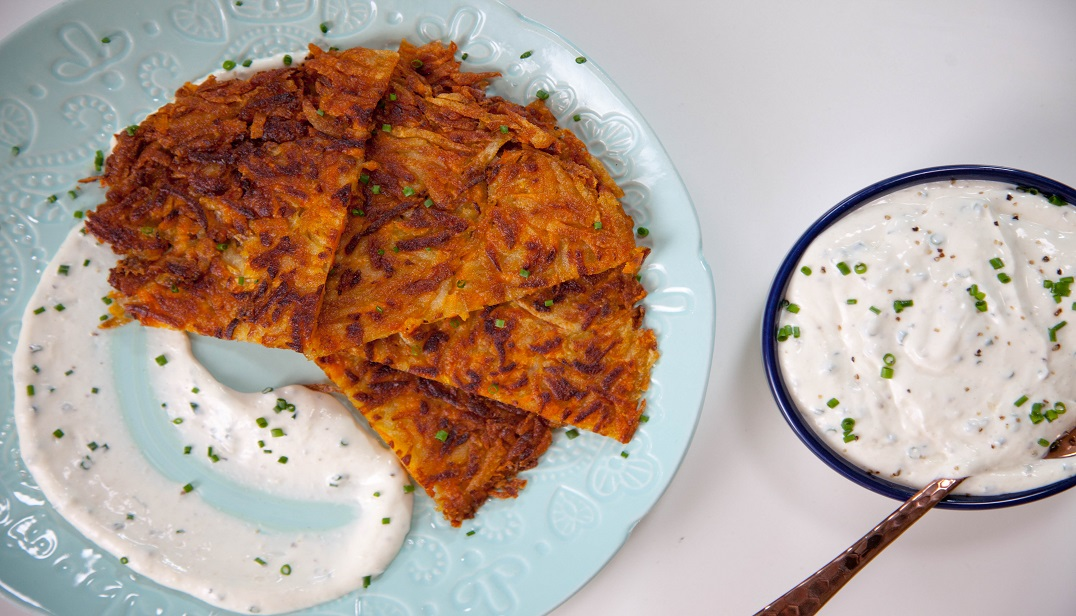 SWEET POTATO ROSTIS

Ingredients:
1 sweet potato, peeled
1 potato
1 yellow onion
1 tablespoon (15 ml) flour
½ teaspoon (2.5 ml) salt
¼ teaspoon (1 ml) pepper
Vegetable oil, for frying

Ingredients:
Grate sweet potato and potato into a bowl. Grate in onion. Add flour, salt, and pepper to bowl and mix to combine. Leave mixture to sit in a colander over a bowl for a few minutes to drain. Remove excess liquid by squeezing mixture with your hands, or by adding to a towel and squeezing.
Heat vegetable oil in a non-stick skillet on medium-high heat. Add mixture a bit at a time until the bottom of the pan is covered. Turn heat down to medium and let cook. When the mixture is golden on the bottom, flip over or turn onto a plate and slide back into the skillet to cook on the other side.
Remove from skillet. Cut into triangles. Serve with creamy Horseradish Dip (see recipe).

HORSERADISH DIP
Ingredients:
1 cup (240 ml) sour cream
2 tablespoons (30 ml) mayonnaise
1 tablespoon (15 ml) horseradish
1 tablespoon (15 ml) Dijon mustard
½ teaspoon (2.5 ml) onion powder
½ teaspoon (2.5 ml) garlic powder
2 tablespoons (30 ml) chopped chives
Salt and pepper

Directions:
Add sour cream, mayonnaise, horseradish, Dijon mustard, onion powder, garlic powder, chives, salt and pepper to a bowl and stir to combine.




Get more recipes from Spencer's BIG 30 and find out when to watch

here

.