Jumbo Turkey Meatballs with Marinara Sauce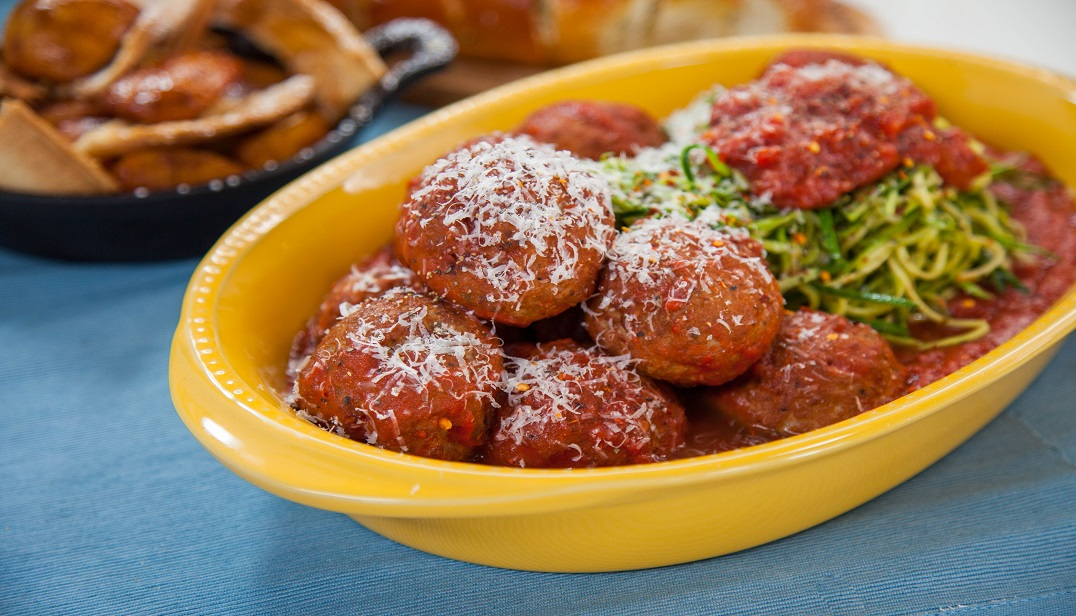 JUMBO TURKEY MEATBALLS

Ingredients:
2 lbs (908 g) ground turkey
½ cup (120 ml) breadcrumbs
1 small onion grated, with juice
1 egg, whisked
1 ½ tablespoons (22.5 ml) Italian seasoning
1 tablespoon (15 ml) chopped garlic
1 teaspoon (5 ml) salt

⅛
teaspoon (0.5 ml) pepper
½ teaspoon (2.5 ml) chili flakes
2 tablespoons (30 ml) olive oil


MARINARA SAUCE
Ingredients:
3 tablespoons (45 ml) extra virgin olive oil
27-ounce can (796 ml) diced tomatoes
5-ounce can (156 ml) tomato paste
½ grated onion
2 tablespoons (30 ml) chopped garlic
1 teaspoon (5 ml) dried oregano
1 bay leaf

⅛
teaspoon (0.5 ml) salt

⅛
teaspoon (0.5 ml) pepper
Fresh grated parmesan, for garnish



Directions:
Preheat oven to 400 F (205 C).



Heat olive oil in a pan over medium heat.

Add diced tomatoes in liquid, tomato paste, onion, garlic, oregano, bay leaf, salt, and pepper to the pan. Stir and bring to a gentle boil. Cook, stirring periodically for 20-25 minutes.



Add ground turkey, breadcrumbs, grated onion with juice, egg, Italian seasoning, garlic, salt, pepper, and chili flakes to a large bowl, and stir to combine thoroughly. Using your hands, roll turkey mixture into 2- to 2 ½-inch (5 to 6 cm) diameter balls. Heat olive oil in a skillet over medium-high heat. Place meatballs in hot skillet. Sear for 2-3 minutes. Flip and place skillet in oven. Cook for 15-18 minutes.


Remove from heat. Serve with Marinara Sauce

Get more recipes from Spencer's BIG 30 and find out when to watch

here

.