Crunchy Coated Fish and Polenta Fries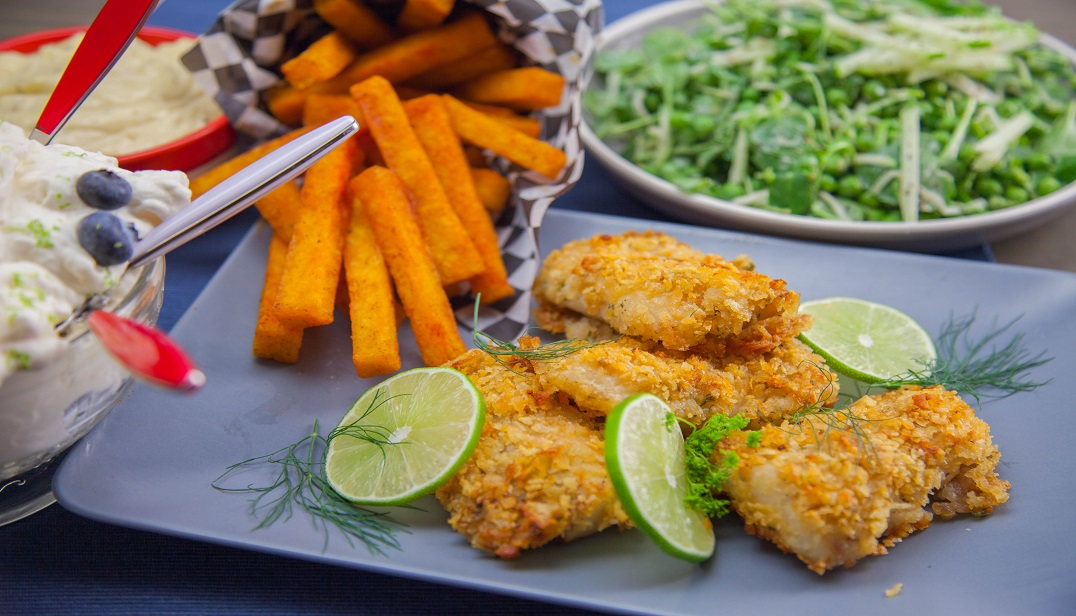 Ingredients:
2 cups (480 ml) crushed plain potato chips
½ cup (120 ml) mayonnaise
2 tablespoons (30 ml) melted butter
2 tablespoons (30 ml) chopped dill
2 tablespoons (30 ml) chopped parsley
½ teaspoon (2.5 ml) pepper
Juice of 1 lime
4 cod fillets, ½ pound (226 g) each
Canola oil, for greasing pan

Method:
Heat oven to 450
° F (230°
C).
Add crushed potato chips to a bowl. In a separate bowl, combine mayonnaise, melted butter, dill, parsley, pepper, and lime juice. Smooth mayonnaise mixture over both sides of fish. Press into crushed chips to coat both sides. Place in a greased baking pan and bake in the oven for 12 minutes.

Serve with Garlic Dip (see recipe).

GARLIC DIP
Ingredients:
½ cup (120 ml) mayonnaise
2 garlic cloves, minced
1 tablespoon (15 ml) olive oil
1 tablespoon (15 ml) lime juice
¼ teaspoon (1 ml) salt
¼ teaspoon (1 ml) pepper

Directions:
Add mayonnaise, garlic, olive oil, lime juice, salt, and pepper to a bowl. Whisk together to combine.




CRISPY SPICED POLENTA FRIES

Ingredients:
2.2 pound (1 kg) tube of polenta
1 teaspoon (5 ml) garlic powder
1 teaspoon (5 ml) onion powder
1 teaspoon (5 ml) smoked paprika
1 teaspoon (5 ml) salt
1 teaspoon (5 ml) pepper
½ teaspoon (2.5 ml) cayenne
2 tablespoons (30 ml) canola oil

Ingredients:
Heat oven to 450° F (230° C).
Cut polenta tube into sections lengthwise. Then cut each section into ½-inch (1.25 cm) thick fries. Mix together garlic powder, onion powder, smoked paprika, salt, pepper, and cayenne and sprinkle onto fries.
Heat a skillet with oil. Lay polenta fries in pan. Cook 5 minutes on one side. Turn polenta fries and place skillet in the oven for 10-15 minutes or until crispy and golden.


Get more recipes from Spencer's BIG 30 and find out where to watch
here
.