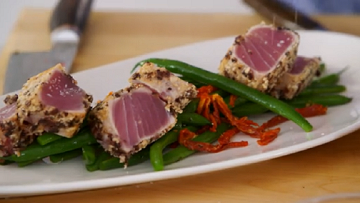 Crusted and Coated: Oysters & Tuna
Join chef and seafood expert Spencer Watts as he has fun in the kitchen with crispy crusts and coatings on rich, meaty tuna and tangy, fresh oysters. First, he dresses up sustainable ahi tuna with an olive and rice cracker crust, and shows how to cook it to a perfect rare. Next, Spencer continues to show just how much tuna loves a crust by making black sesame and almond crusted ahi tuna with ginger miso dressing. Now it's onto oysters, the little gems that live in cool, salty sea water. After a lesson in shucking, Spencer starts with one his favourite ways to eat oysters: baked motoyaki style with a beautiful coating. To finish, he packs a flavour punch with beer battered oysters and pickled jalapeno tartar sauce.
Fish The Dish
Fish The Dish follows Chef Spencer Watts as he makes accessible, tasty recipes with sustainable fish and shellfish. Showing us just how fast, easy and fun fish recipes are to make.